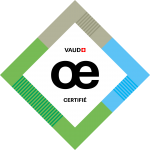 Located in Aigle, our family has a domain halfway between the old town and the medieval district. If the vault and the vinotheque are located in the big building, the 15 hectares of vines spread out on the surrounding communal grounds.
Chablais Vaudois is a region dedicated to market gardening and winegrowing. Taking advantage of ideal climatic and geological conditions, local winemakers make the most of what nature offers them. We work our parcels between Aigle, Yvorne, Ollon and Bex.
Half of our white production concerns Chasselas, but we reserve a part of the estate for the breeding of specialties such as Viognier, Pinot-gris and Pinot Blanc. The rest of the farm is for red wine lovers as Pinot Noir, Gamay, Gamaret, Merlot, Diolinoir and Egiodola complete our selection.
In the cellar, oak and chestnut casks stand alongside the stainless steel vats. A magnificent stone vault welcomes up to 46 guests for moments of sharing like no other. Themed menus, fondues and local specialties perfectly complement the prior visit of the facilities.
The vinotheque satisfies the customer wishing to combine good wine and local products. Discovery boxes cover all budgets. Certified "Vaud Wine Tourism", the hotel welcomes patriots every August 1 at a brunch on the farm.
Didier and Anick Badan